FISHING THE COQUILLE RIVER
COQUILLE RIVER FISHING GUIDE.
The Coquille river system in Southwest Oregon is about 36 miles and offers world class winter steelhead, fall chinook and Coho salmon fishing. I mainly fish the South Fork of the Coquille river for winter steelhead and the main Coquille for fall chinook. The Coquille river is one of my favorite rivers to fish because of its beautiful landscape and relaxing fishing experience. The Coquille weaves its way through the Southern Oregon Coastal Mountain Range and enters the Pacific Ocean in the town of Bandon, Oregon. It is truly a remarkable experience to fish the Coquille river and I hope you someday get to share in the experience.
The South Fork of the Coquille has a fantastic hatchery winter steelhead program, allowing anglers to keep 3 hatchery steelhead per day. Located between Powers and Myrtle Point, Oregon the South Fork offers a very relaxing, yet productive, day of fishing. If you are coming from out of town you can stay at the Myrtle Trees Hotel before your epic day of fishing.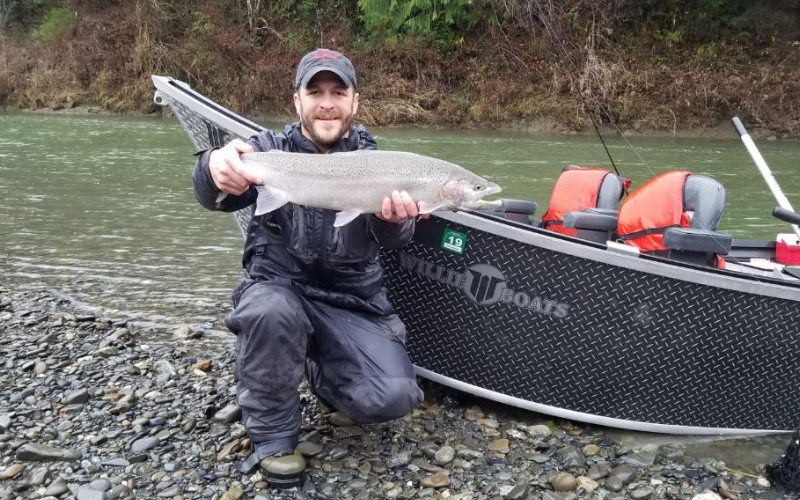 Winter and summer steelhead and fall and spring chinook will be fished for out of my 2017 17' Willie Drift Boat. Fishing in the Bay will be fished out of my 2018 24' Willie Raptor.
SCHEDULE YOUR FISHING TRIP ON THE COQUILLE TODAY!
What's Provided
Boats: Drift boat 2017 17′ X 60″ Willie Drift Boat with a heater, pizza oven, seats with arm rests, with the ability to fish 3 people and a 2018 24′ X 84″ Willie Raptor Jet Sled, plenty of room and has the ability to fish 4-6 people
Fishing Rods: Steelhead and Salmon we fish G-Loomis IMX rods with either shimano Ci4, Daiwa lexa line counters or abu garcia 5501 level line
Beckman fishing nets
Top quality instruction and methods depending on the type of fishery
Coast guard master 25 ton certification
CPR certification
Large group fishing capabilities
fly fishing options
What to Bring
Fishing license
food and drink (ability to cook in the drift boat)
Warm clothes and rain gear depending on weather (be sure to check weather forecast)
Alcohol is permitted with responsible consumption
What it Costs
Half Day:
7:00AM-11:00AM or 12:00PM-4:00PM
$175 per Person
with $75 Deposit
Full Day:
7AM-3:30pm
$225 Per person
With $125 deposit
A Few Photos on the Coquille